THE CHALLENGE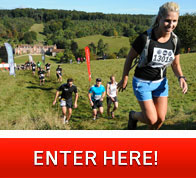 From the creators of HellRunner™ comes The Helly Hansen Beauty and the Beast. A measured off-road trail marathon taking place at West Wycombe Park, near Junction 4 off the M40, on Saturday 21st September 2013, commencing at 1000am.
Each lap will be just less than 4.4 miles in length and the unique event format incorporates a full marathon, half marathon and team options-for which you can enter as pair, group of 3 or group of 6.
Expect a varied, hilly and fully marked, trail route situated within one of the UK's most beautiful sporting event locations. The views are stunning. The size of the challenge, immense.
THE FULL MARATHON (£40.00)
For endurance runners, experienced marathoners and real heroes only! You'll tackle six laps of probably one of the UK's hilliest marathon courses. Expect verdant forest tracks and magnificent parkland trails within this exclusive National Trust estate. Its' 'Beauty' is undeniable… the course route truly 'Beastly'!
THE HALF MARATHON (£35.00)
To say that the half-marathon entrants just have three laps to tackle does not do justice to what will be a memorable challenge. You will, however, have that much more time to take in the fabulous views on offer.
TEAMS OF TWO (£35.00 per runner)
That will be 3-laps, or a half-marathon, for each of you. However, it will be up to the two of you as to whether you tackle your part all in one go or swap over at the end of each lap. Don't worry– each lap will be chip timed and help is on hand in case you forget how many laps each of you has done.
TEAMS OF THREE (£32.50 per runner)
Two laps for each of the three runners and you can decide on the day as to who does what, when and in which order. An option to take a breather at the end of your first lap…or just keep on going!
TEAMS OF SIX (£30.00 per runner)
Marathon running has just become a team sport! A great way to get a group of friends or colleagues together to tackle the real marathon distance but in an accessible way for those of more modest fitness levels or, perhaps, runners wanting to picnic in the park with a beautiful Saturday trail run thrown in for good measure. You'll still have to tame "The Beast" though.
The entry fee for all runners includes a superb Helly Hansen technical event tee shirt, superb goody bag, medal and chip timing.